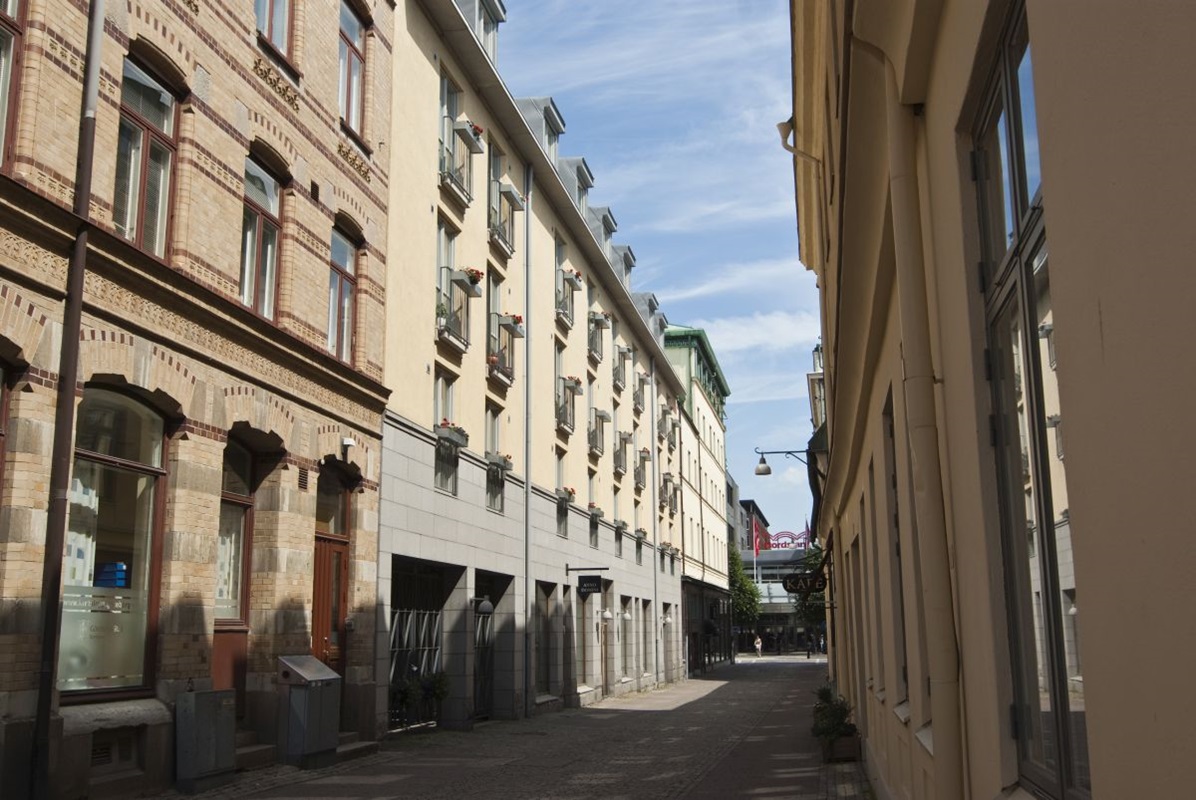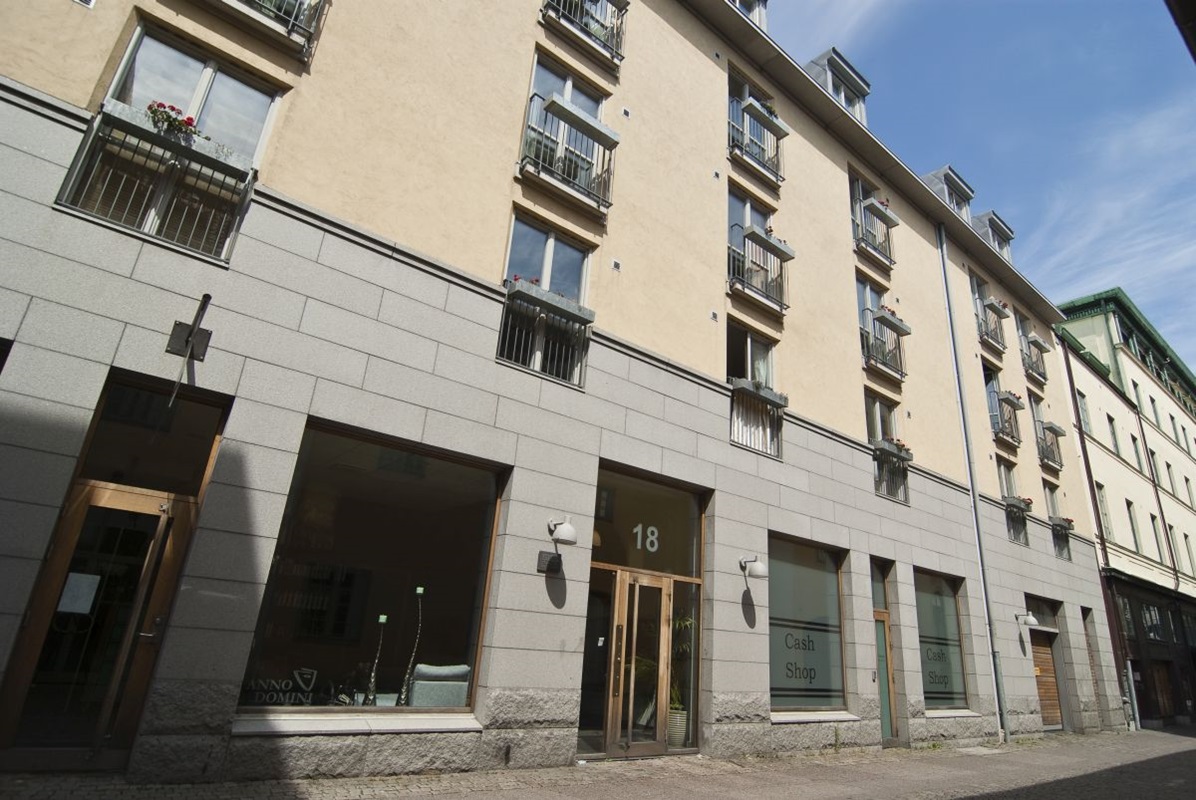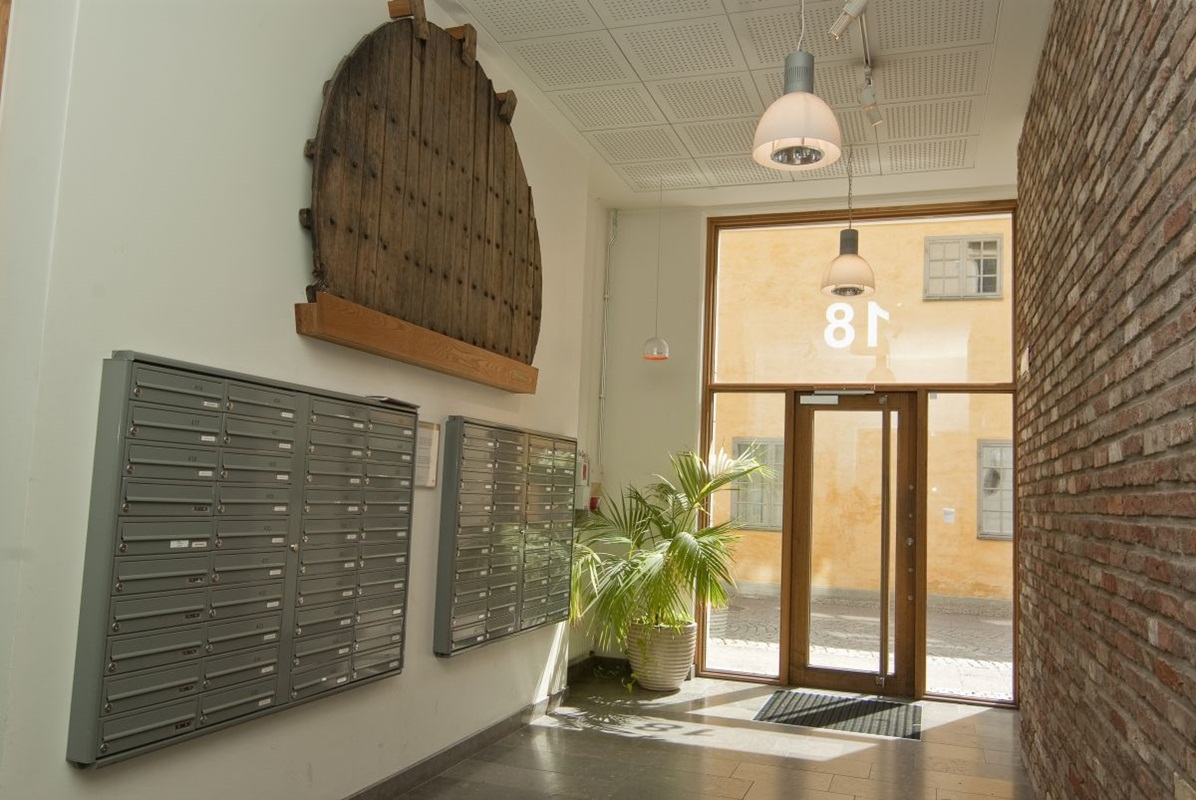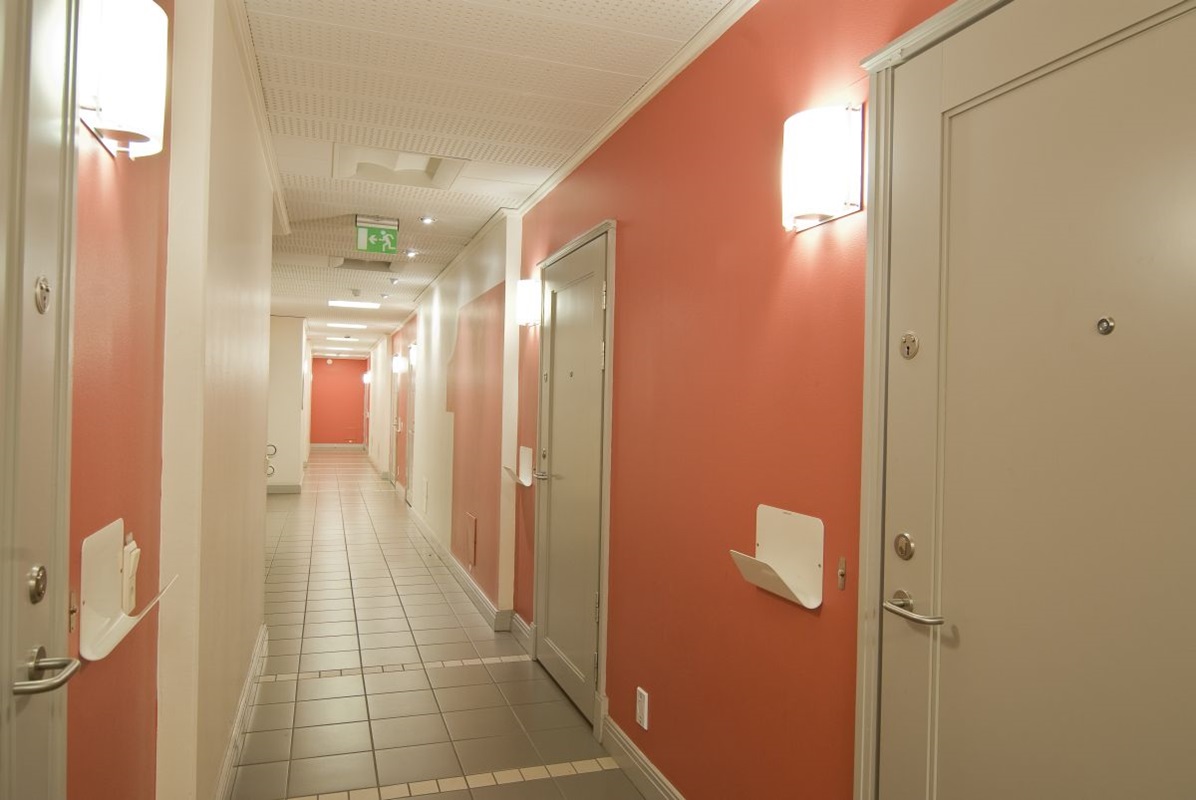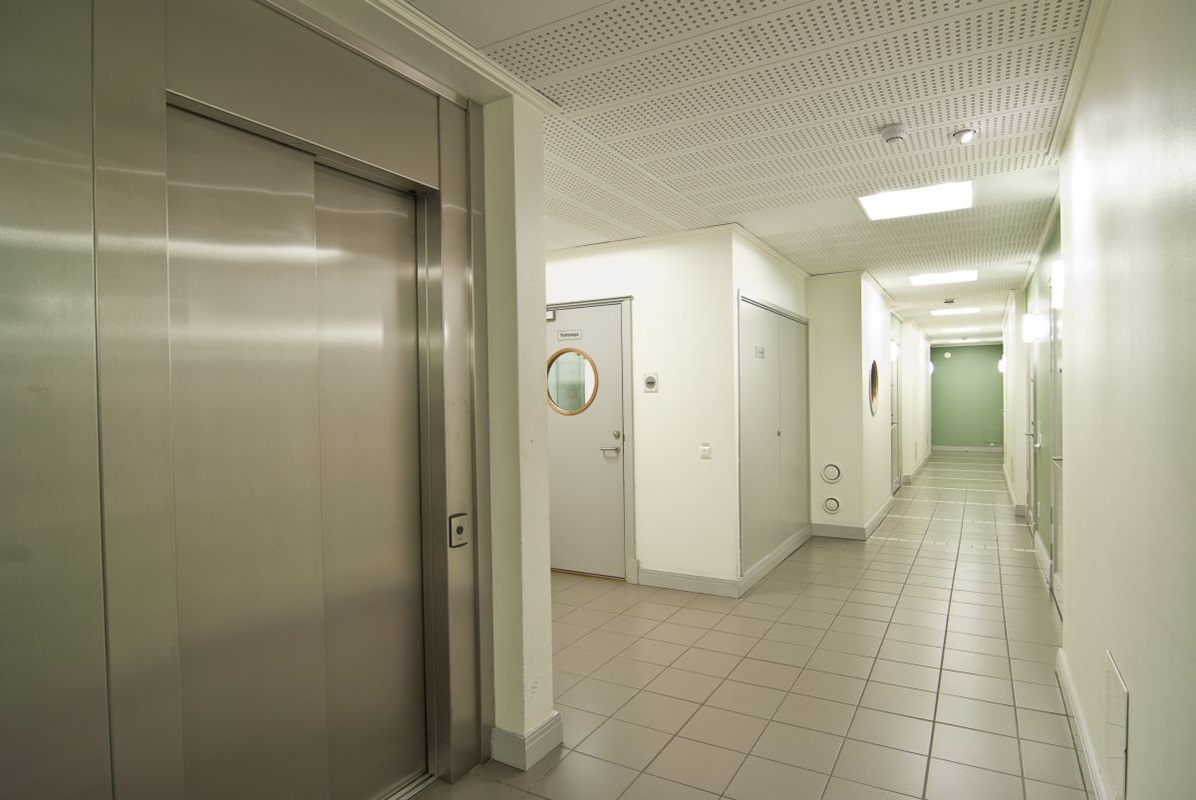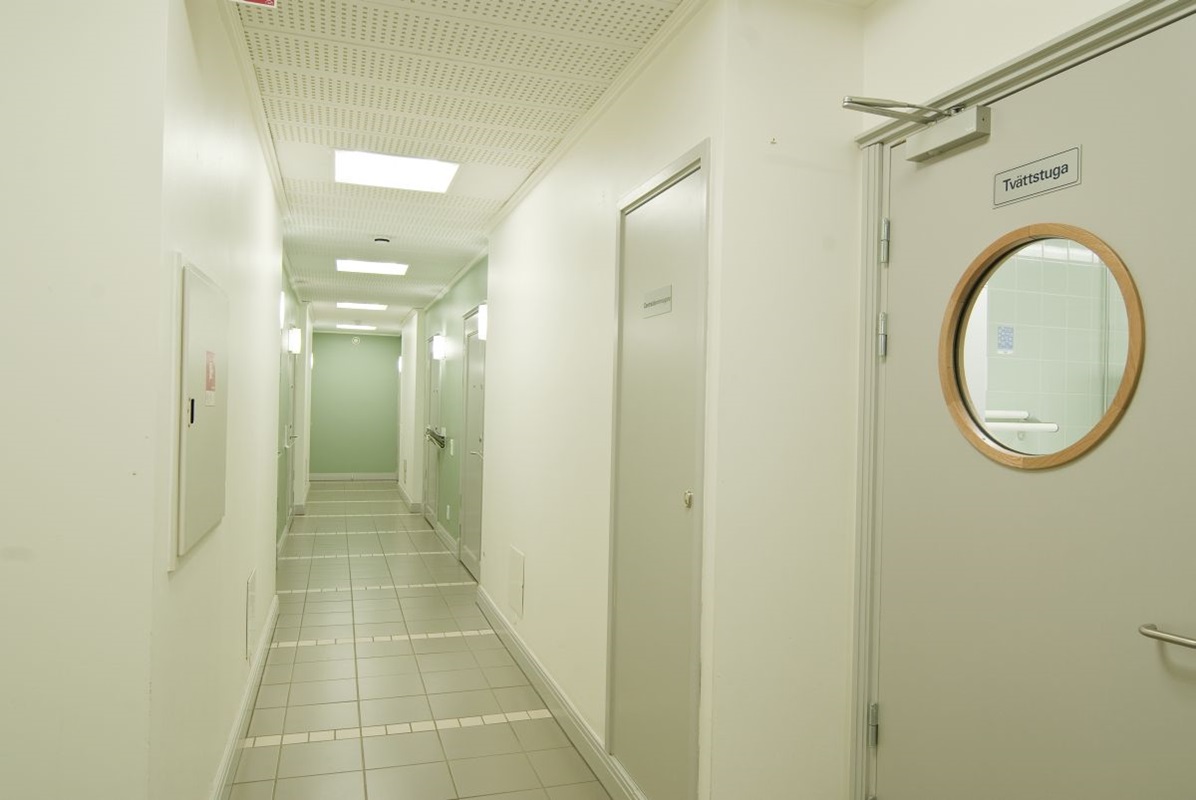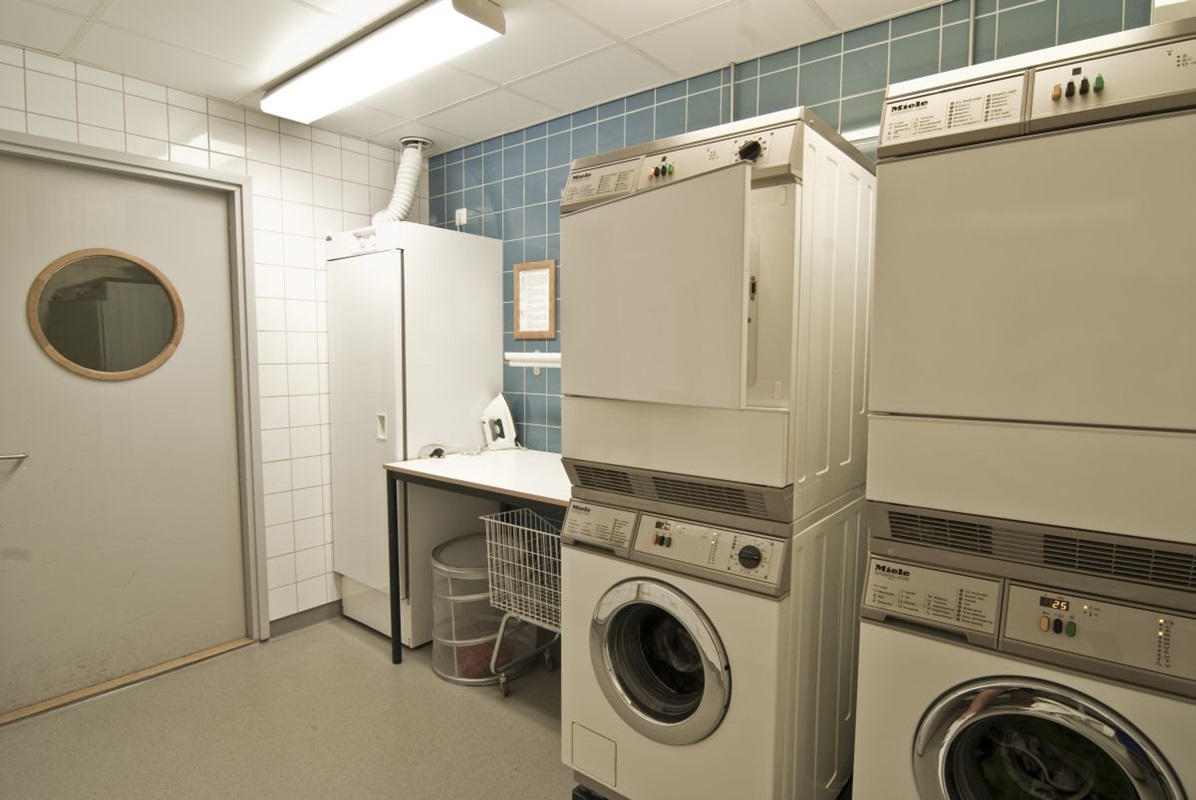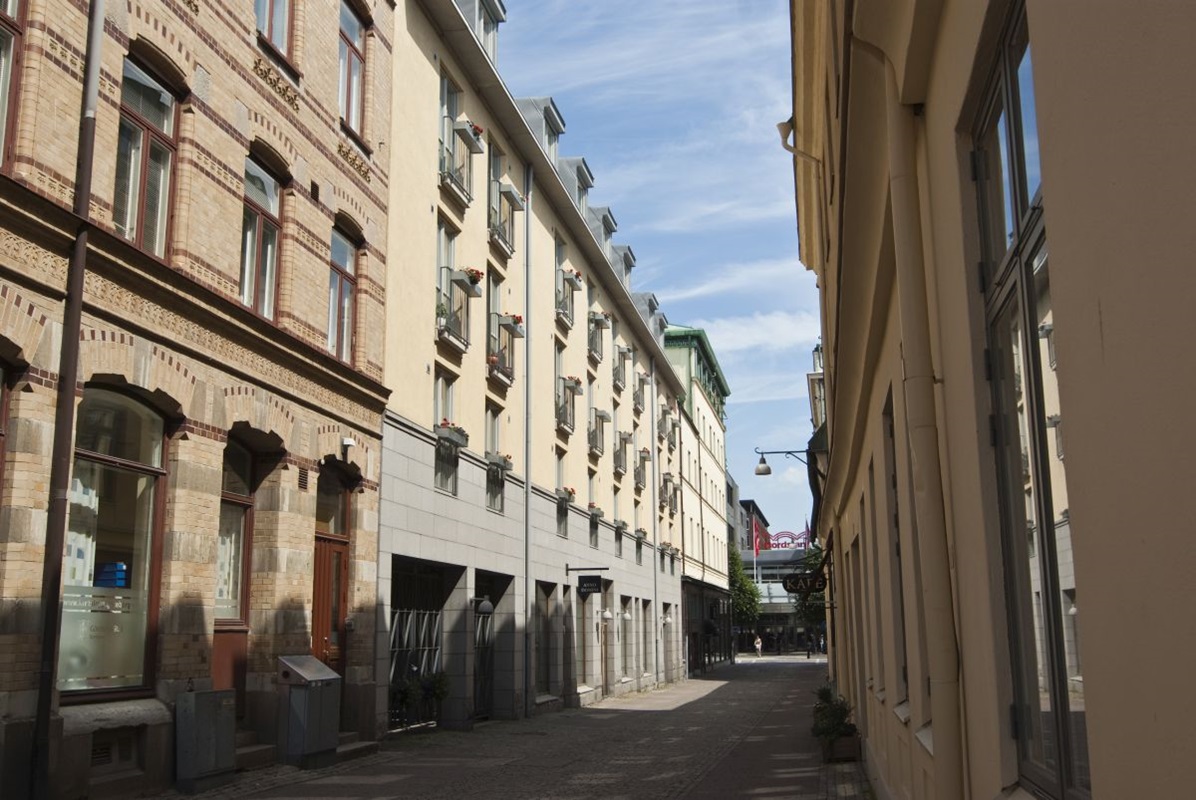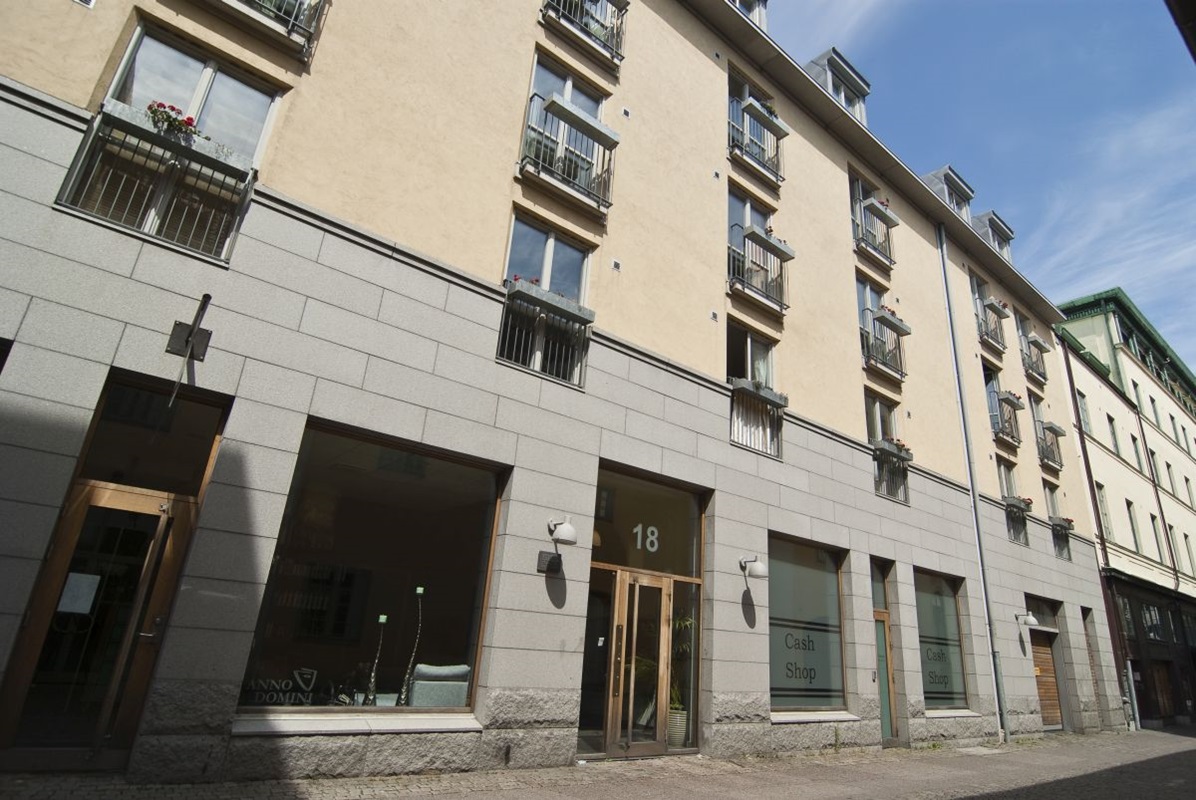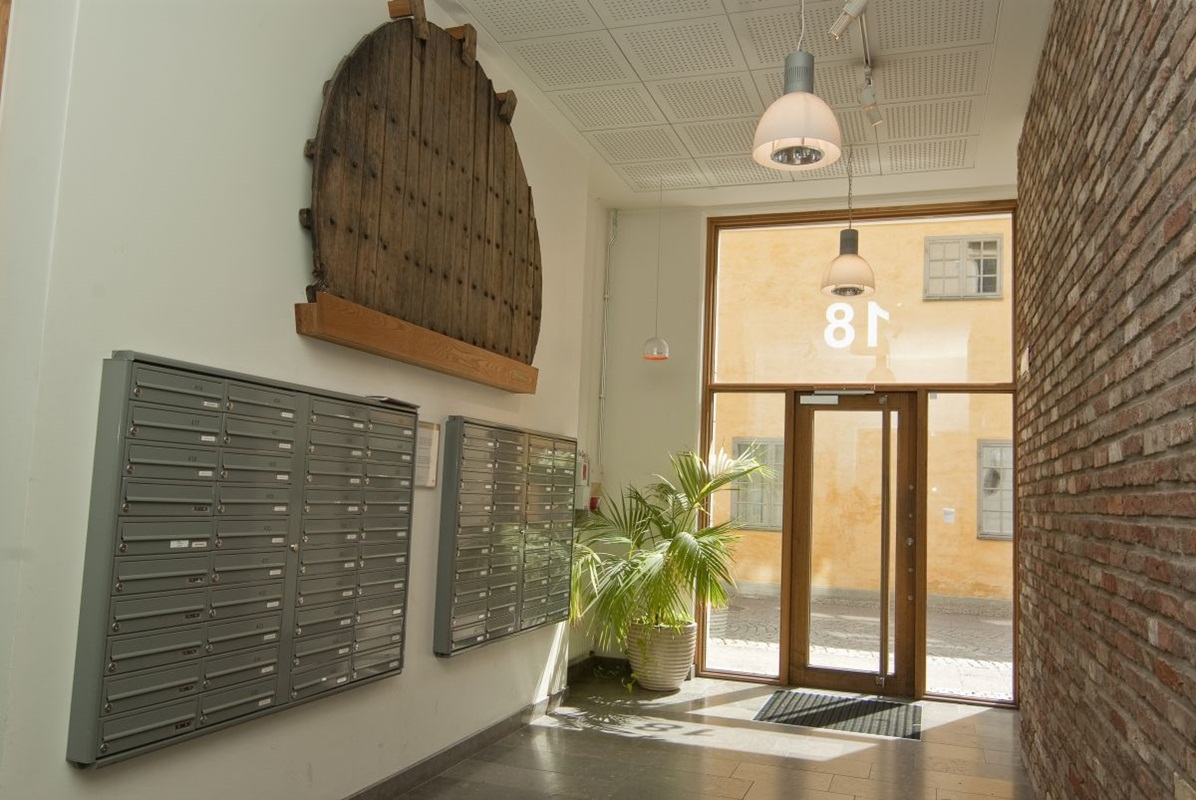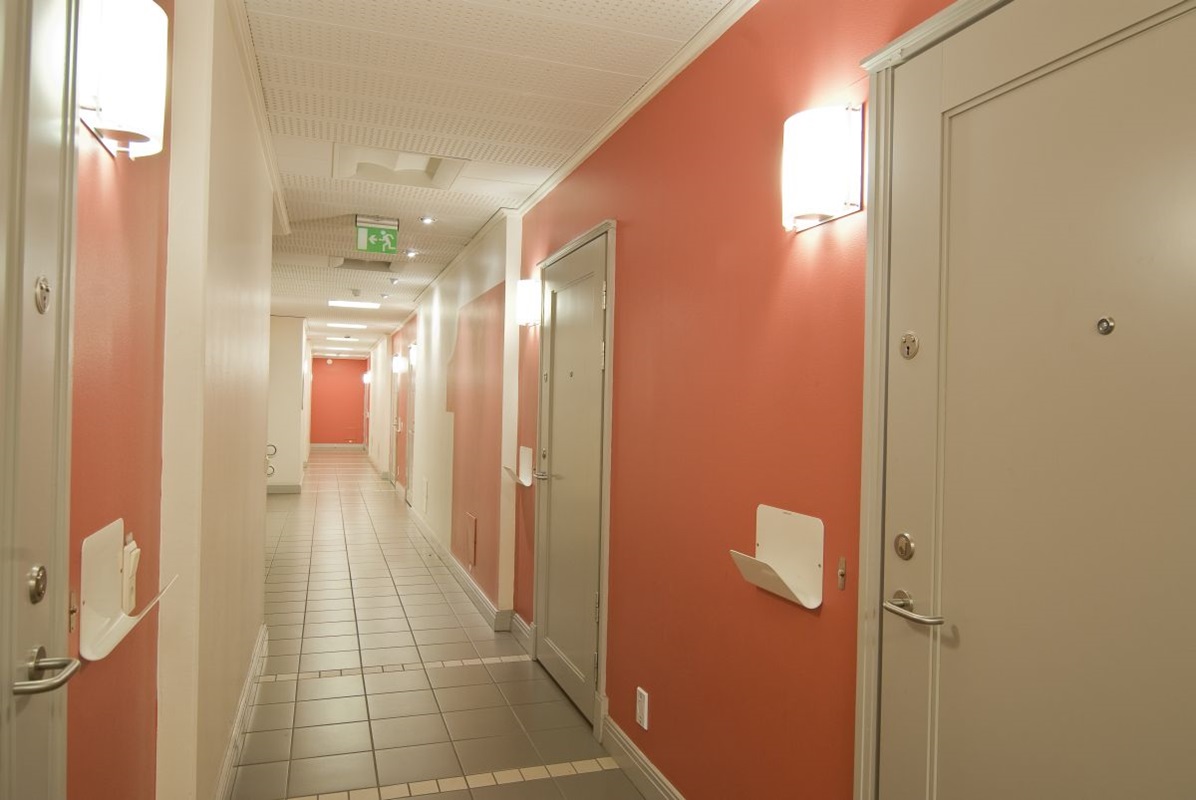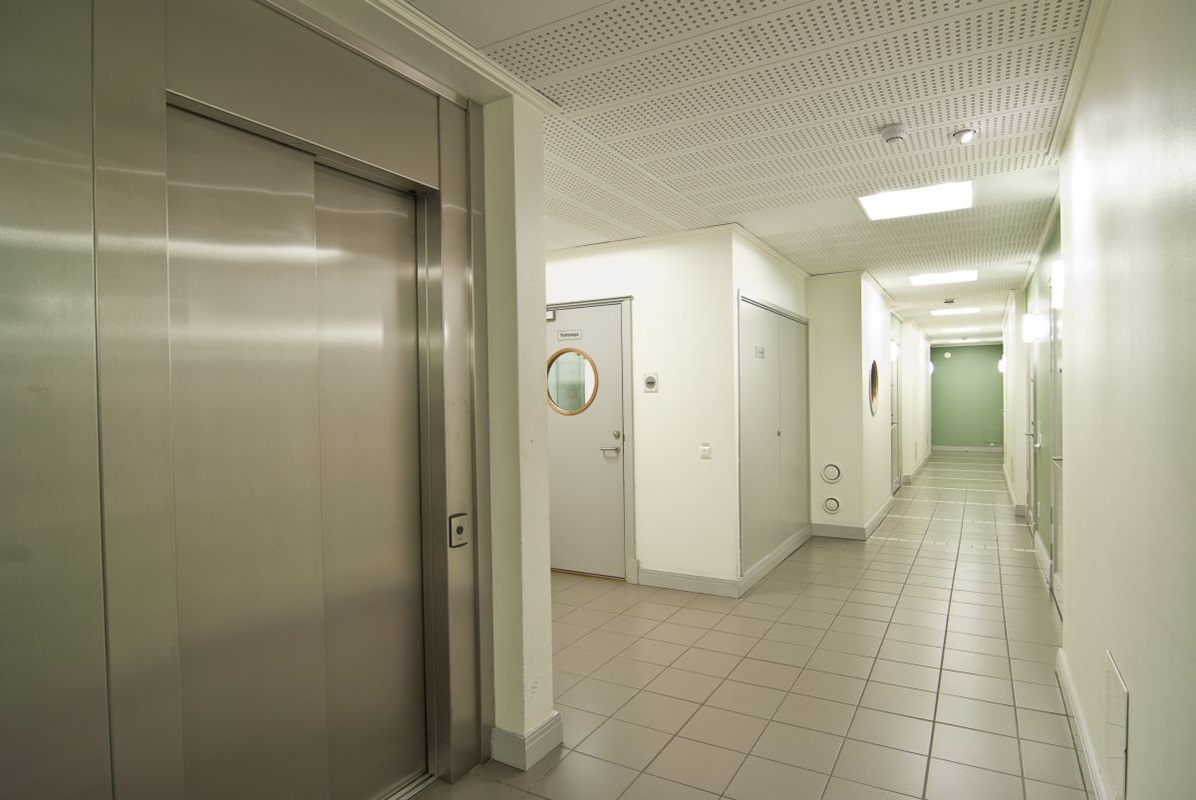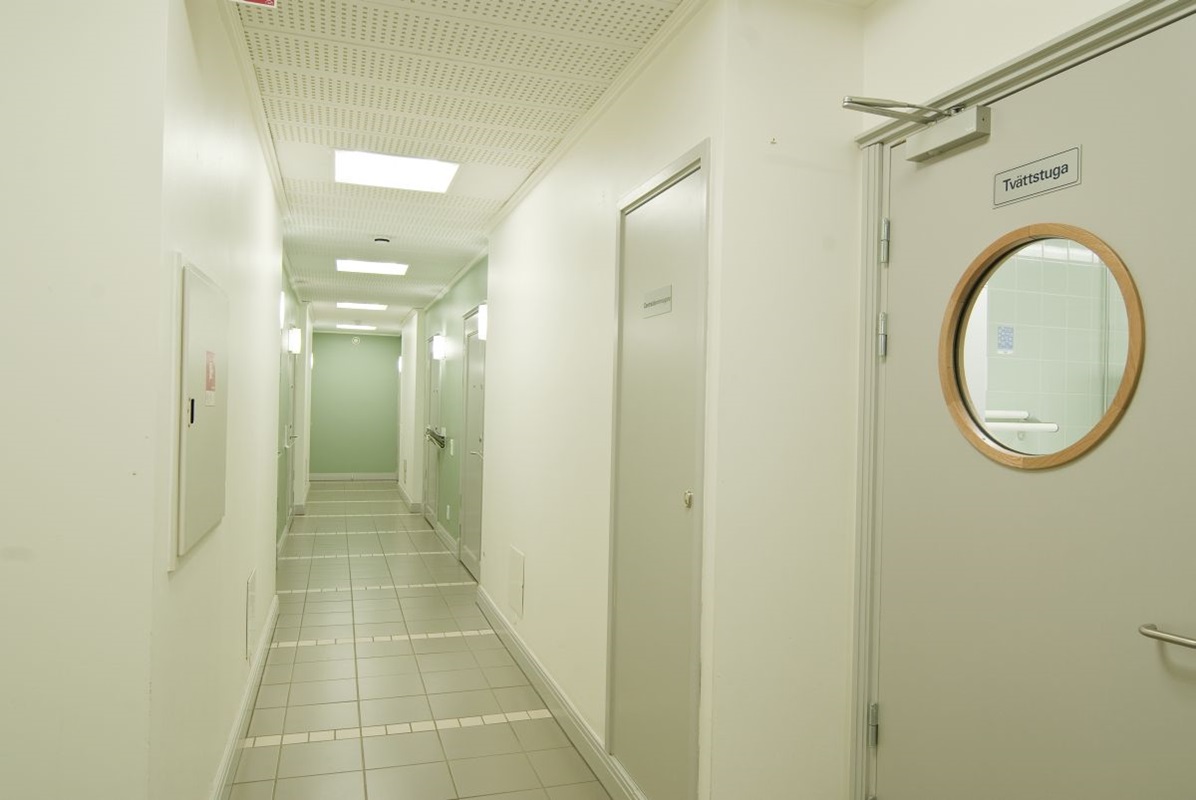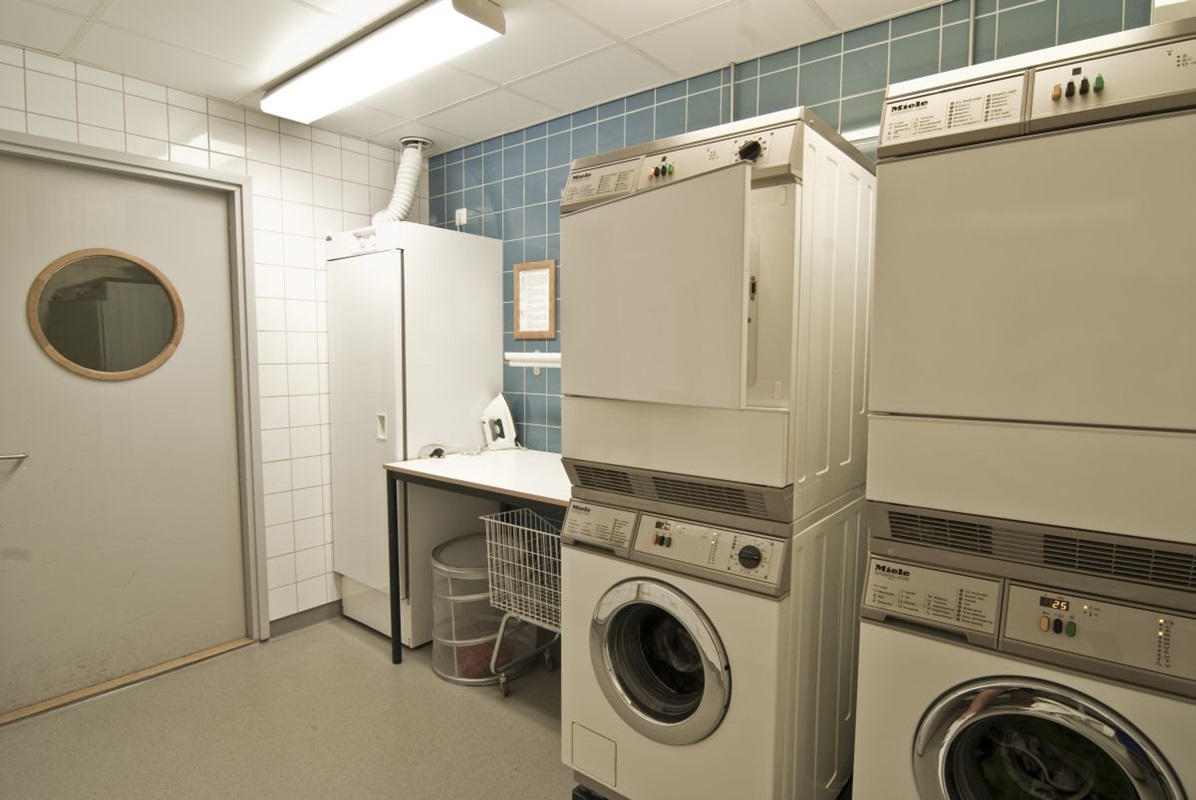 Postgatan
Postgatan 18
Building type
Four-storey stone building built in 2001.
Apartments
73 × 1-room apartment with kitchenette.

The carefully planned apartments are between 23 and 25 square metres in size and have a ceiling height of 2.65 metres.

All of the apartments have French balconies with the exception of the attic apartments, which have dormer windows instead.

There is an ongoing construction project in the area that could cause interference. Piling works will go on in different stages in 2016 and 2017.

The building project is expected to be completed during the later part of 2018.
Postgatan
Settlement in this area dates back to around 1620. The name Sillgatan ("herring street", which is now Postgatan) may have its origins in the name Heringsgatan. In the course of the 18th century, Sillgatan became a "posh" street where many of the most influential merchants in town had their residences. In the final years of the 19th century, during the period of emigration to America, Sillgatan became the shipowners' street in Göteborg. After a huge portion of the area was demolished in the 1960s, the premises in question saw use as a parking lot. In 2000, the work with creating 73 new student apartments was started and the building was officially opened in 2001, to coincide with our 50th anniversary.
Here you live in the very central part of the city, close to the Nordstan shopping centre. For our cycling tenants cycle pump is available in the yard.
Apartments
Details
Garage
Bike Storage
Internet
Elevator
Customer centre
At Kundcenter Johanneberg you will meet Customer Service to help you in all matters and our caretakers / property managers who fixes in your home and the property you live in.
Address
Richertsgatan 2 A
412 81 GÖTEBORG
Phone
031-333 64 40
Openinghours
Monday - Friday 09:00 - 16:00
Phone hours
Monday - Friday 09:00 - 16:00
Move in info
Welcome to Postgatan!
Contact form (if you need to contact us in any case) you will find when you log on to My pages.
Internet
SGSNET broadband is included in the rent.
Information about your Internet connection (how to register and setup) can be found under Internet/Guides. Remember that when you register it is the customer number printed on your rental contract you should use.
Storerooms
The storerooms are in the cellar. The flat key fits the cellar lock.
Vacuum cleaners
The house is equipped with a built-in vacuum cleaner.
Household wastes/recycling
Refuse chamber with source separation and compostible waste is at Postgatan just outside the building.
Laundries
There is a laundry on each floor. All laundries are booked from floor 1, where you find a manual for instructions. You can also book on the Internet.
Electricity
Electricity is not included in the rent. Report to Göteborg Energi AB, tel 031-62 62 62, or on their website http://www.goteborgenergi.se/English/Customer_service
Note: It is very important that you make a moving-in notification, otherwise there might be no power in the apartment you move into.
Electricity
Electricity is not included in the rent.
TV
Tele2 is responsible for cable TV, phone 90 222.